How Cyber Dive Plans To Catch Human Trafficking Warning Signs On…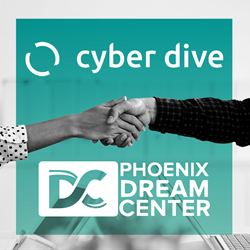 This partnership will allow Cyber Dive to enhance the intelligence of their AI software based on the knowledge and insight from the Phoenix Dream Center.
MESA, Ariz. (PRWEB)
January 04, 2021
Cyber Dive, the content moderation startup, is announcing its partnership with Phoenix Dream Center to collaborate on preventative measures to be taken against cases of human trafficking that are initiated online. The Phoenix Dream Center is a nonprofit organization whose mission is to stop human trafficking, end childhood hunger and educate future leaders.
"We are a company focused on the people and the planet. The Dream Center is making a profound difference in the lives of victims of human and sex trafficking. It was natural for us to join forces to give main street families the tools they need to stay aware and use social media for good; not only for their own kids but for the kids they walk by at the airport that might be stuck hoping that someone notices and takes action." – Jeff Gottfurcht, Co-Founder and CEO of Cyber Dive
This partnership will allow Cyber Dive to enhance the intelligence of their AI software based on the knowledge and insight from the Phoenix Dream Center. This integration will further protect children from online predators and keep parents informed of potential grooming signs making Cyber Dive's monitoring platform an integral resource in putting an end to human trafficking.
"No one understands how predators groom victims better than the victims themselves. That's why we partnered with the Dream Center so that our software isn't just built using analysis tradecraft, but it's powered by the real-life stories of boys and girls who experienced severe trauma because of social media." – Derek Jackson, Co-Founder and CTO of Cyber Dive
This partnership is timely as January is National Slavery and Human Trafficking Prevention Month. Human trafficking is one of the fastest-growing crimes in the world and the United States has cases in all 50 states. The Phoenix Dream Center currently provides housing and recovery services to more than 60 survivors of human trafficking.
"The Phoenix Dream Center recognizes the value of Cyber Dive's monitoring platform and believes it can decrease the risk of children becoming victims of human trafficking. We are honored to partner with such an innovative technology company who is determined to make a positive impact on the community where family relationships are strengthened, and children are protected from online traffickers." – Carlos Daniel, Chief Development Officer of Phoenix Dream Center
The use of social media has put children at an exponentially higher risk as these platforms are used to groom and recruit human trafficking victims. This often happens without the parent's knowledge and these child victims are taken advantage of, lacking any type of support system. Cyber Dive's software prioritizes the involvement of parents and how necessary their guidance is when allowing children to interact with others online. As Cyber Dive and Phoenix Dream Center come together, they aim to create a comprehensive monitoring service for parents and children to benefit from while educating their community and bringing awareness to the dangers of human trafficking. Cyber Dive plans to partner with more nonprofit organizations to add value in making their monitoring platform the most comprehensive and effective in keeping children safe online.
About Cyber Dive

Cyber Dive is a tech startup designed for modern parents that are interested in leveraging social media as a tool to build stronger relationships with their children. Cyber Dive's proprietary software was built by in-house engineers with the purpose of presenting a child's online data to their parents in a simple and unbiased manner. Presenting data in a neutral way widens the target audience of parents by eliminating the relevance of parenting styles. Cyber Dive encourages the progression of the digital age by not providing restrictive features on the child's social media accounts. The company's mission is to encourage the development of healthy online habits while bridging the digital gap between parents and children.
About The Founders

Co-Founder and CEO, Jeff Gottfurcht, is the first person in the world to summit Mt. Everest with Rheumatoid Arthritis. He worked on Wall Street for 14 years as a Senior Vice-President at leading global financial firms. As a father, he is committed to finding an effective solution that can protect children online while initiating important parent-child conversations about their child's experiences on social media.
Co-Founder and CTO, Derek Jackson, is an ex-military intelligence officer who previously served as a Captain in the U.S. Army, where his intelligence work focused on the social media activity of U.S. adversaries and radical insurgents. Jackson's cybersecurity expertise has been the driving force in creating Cyber Dive's software that can protect children from potentially traumatic and dangerous online situations.
To learn more about Cyber Dive's platform, mission and team: Visit CyberDive.co.
Share article on social media or email:
Published at Mon, 04 Jan 2021 00:00:00 +0000